general

This is a personal blog where I post about my interests & daily life. My blog is absolutely not a fashion or make up blog, they are just a part of my interests—meaning that my posts aren't restricted to just that. I am not an expert & I am not sponsored to do reviews.

Any personal photographs are taken by me on a Canon G10 or iPhone 4. Any gifs or images were created/edited by me as well, where I don't permit using elsewhere.




author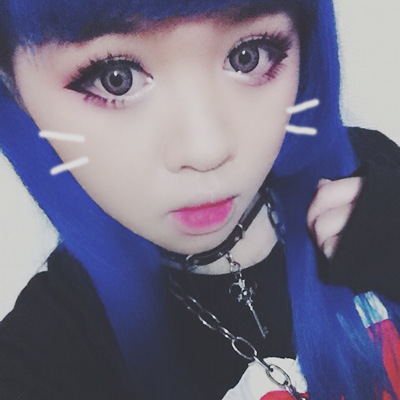 Age: twenty-one
Residence: Tokyo, Japan
Ethnicity: Vietnamese, Japanese, Chinese
Languages: Japanese, Vietnamese, English
Hobbies: playing video games, eating, sleeping, reading, blogging, & listening to music
Favorite Brands: FERNOPAA, GLAVIL by tutuHA, LISTEN FLAVOR, HELLCATPUNKS




twitter






archives





Live: Xepher

Saturday, May 10, 2014

@

10:01 AM

`°•.¸¸.•°`

Xepher is a band from Osaka, so I was really excited to have them come to Tokyo. Without much consideration, I purchased a ticket to their live.



From the moment I received my ticket, I was really excited & nervous about seeing them! It was so surreal.

On Friday, I got to see them at Ikebukuro Edge for the first time. My ticket allowed me to be in second row right in front of Hina ♥

Before their set, I went to the goods table & handed over my gift to Hina, which was a stuffed mini alpaca from Christmas. Although it isn't Christmas, Hina has the same one but a larger variation. I also wrote him a letter, expressing my appreciation of them coming all the way to Tokyo. In addition, I handed over my letter to Ran. I wrote to him about my favorite song, "Loveless."

Since they weren't selling their towel, I only bought cheki & rings. I initially bought six cheki, but none of them were Hina. They came all the way to Tokyo, so I didn't want to leave without Hina cheki. I ended up buying two more, & finally got one Hina cheki--which is signed! The woman at the goods table was very sweet & cheered for me to get Hina ♥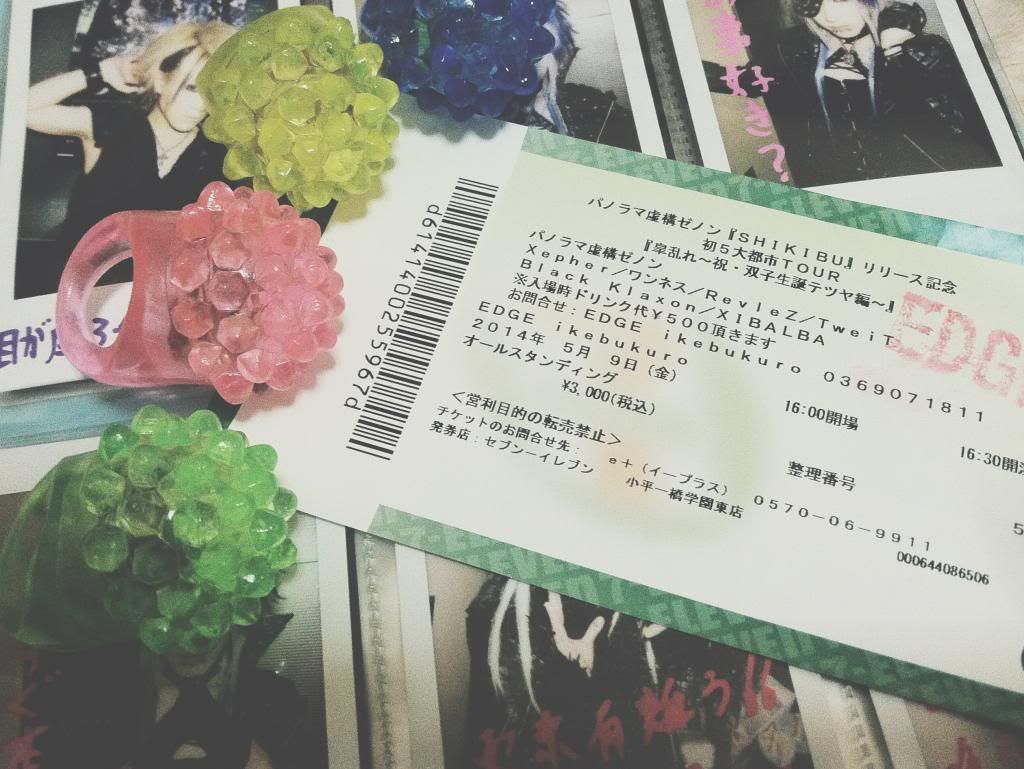 When their set started, the first song was "Loveless!" I was so happy, I held my hand over my mouth to keep myself from screaming too much out of excitement....Even though the sound in there was terrible, it was amazing! I sang along the entire time. Hina looked at me a lot too! He saw me singing along, & he smiled & started to sing along, ahhhh ♥ Hina was so gorgeous...He looks different in person. He's just a million times more beautiful. I could barely take my eyes off of him.

During times that I did look at the other members, I couldn't believe how amazing they were. When Ran spoke, his voice was so gentle. He was nothing like the odd person that he is on Twitter.

They also played "lost eyes," which is my second favorite song ♥ It was so beautiful! Unfortunately, their set was really short & ended after only four songs. Regardless, their performance was incredibly touching.

To be honest, I feel bad for them. They drove all night to Tokyo, didn't get any sleep, & performed for a small number of Tokyo fans, then had to leave for Sendai. The way they tweeted & blogged about Tokyo--it seemed like they weren't nearly as excited about Tokyo compared to Sendai. I'm sure they appreciate all of the support that they receive, I just wish there was more that I could do to make their visit to Tokyo more enjoyable.

I bought a ticket to their one-man live in Tokyo, & I got an amazingly good number! It's the best ticket that I've ever gotten for any live. I can't wait to see them again! ♥

Labels: ikebukuro, japan, lives, music, tokyo, visual kei, xepher






Live: Gallo, REALies/Arlequin, REALies/landz.

Thursday, May 8, 2014 @ 1:59 AM `°•.¸¸.•°`

Within two days, I attended three lives! The first live, my friend had invited me to go because her friend had invited her to go. She didn't really want to go, but she felt obligated. Since I wasn't really doing anything, & the live was free, I agreed to go with her.

It was a free live for Gallo. Before this, I hadn't heard any of their music, but I have seen some images of them. I remembered that the vocalist wore very dramatic lipstick.
It was really crowded, so it was difficult to move, but I was able to see the band quite well, considering that it was at Ikebukuro Cyber. What really stood out to me about the band was that they had really silly furi, & the band members had interesting personalities. Some of the songs were pretty good too. It was enjoyable.

My friend & I had to leave early because we had to meet her other friend to see REALies & Arlequin with us at Ikebukuro Edge. This was her first visual kei live, so I was really excited for her!
Although I had a really bad ticket, my friend was able to save us a spot in the fourth row!

Firstly, REALies & Arlequin had an indoor-soccer event a while ago, & the loser had to do a dance as "punishment." Since REALies lost, the live started off with them dancing to a pop song in some ridiculous, matching costumes. The actual live hadn't even started yet, but I was already losing my voice from laughing.

The actual live started with Arlequin. I've seen them before, & they're really amazing. I actually listen to them frequently. I had a lot of fun seeing them, & it was my first time seeing them in their new costume.

After Arlequin was REALies, obviously. This was my first time seeing them in their new costume as well. Nao was able to see me, which I'm grateful for because I decided not to take photos with them after the live. Nao also grabbed my hand plenty of times. In addition, during the MC, I made a heart to him & he smiled at me ♥

After the live, I handed my gift to the goods merchant. It was just a very short letter, & a keychain/strap that I had made of him.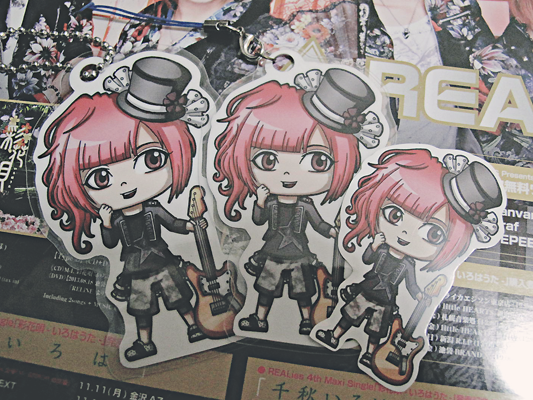 There was a sticker made of the illustration as well, so I gave one strap & the sticker to him, & I kept one strap to myself so that we can match! The illustration is of him in his previous costume, which is my favorite.

After the live, I went home because I was really exhausted from staying up & playing video games until the morning. However, I only took a small nap, woke up again, prepared my gift for Shin from landz., took another small nap, then got up so that I could head to my next live.

I met my friend again in Shinjuku, & we did some stuff around Shinjuku together, had a quick lunch, then headed to Birth Shinjuku. This was my first time going to Birth. It's located in the middle of a bunch of host clubs. However, since it was daytime, the area was empty.

Before the live started, I went to landz.'s goods table to give the merchant my gift to Shin. I had an illustration of Shin, which I printed, & I bought GODIVA chocolate for him. Shin likes gourmet chocolate. In addition, I wrote him a relatively long letter. It's easy for me to write him letters, because he has a personality that I feel is easy for me to understand. To be honest, if he wasn't in a band, & I wasn't a fan, & if we met in a normal situation, we probably would end up being close friends.
However, that isn't the case. So I try to put a lot of effort into writing my letters to him & finding gifts that he would like.

After handing my gift over, the goods lady suggested that I buy Shin's chouchou. Although I had wanted to buy Towa's red velvet chouchou, I really like Shin. In the end, I bought Shin's white chouchou(white is the color of his costume, & his favorite color). In addition, I bought one of the photosets which has my favorite photo of him.

My friend was able to get us a really good spot in third row. I had a nice place that allowed me to see Nao & Shin.

For the first time, I saw NAINE. They play electronic-rock music. What was really interesting to me was that two-stepping is a part of the furi. It was hilarious & adorable to watch their fans.

During landz., my friend asked a girl in second row if she was willing to trade spots with me, so I was in second row right in front of Shin! He pointed to me & said "come on," I died a little ♥ Though, he has said more severe things to me such as "come on, fuck me baby." I think that just having him say it to me in person was too much for me. Shin was gorgeous...but unlike Nao, he didn't look at me too much. I'm glad that he at least noticed me though!

I was also able to enjoy Crazy Shampoo. However, during the mosh, I fell down because a girl left a lot of her bags in the middle of the row. At another time, the girl beside me fell, so I accidentally fell, & another girl fell onto me. However, everyone was very helpful & it was fun.

REALies played last. Nao looked at me a lot, much more than he did yesterday. He smiled at me with his adorable smile ♥♥ I had a lot of fun.

Before the live ended, I also bought landz. cheki. I bought five, & all of them were signed Haru cheki except one. That one was Shin, but it isn't a very good photo & it isn't signed. Regardless, I'm thankful that I got at least one Shin cheki.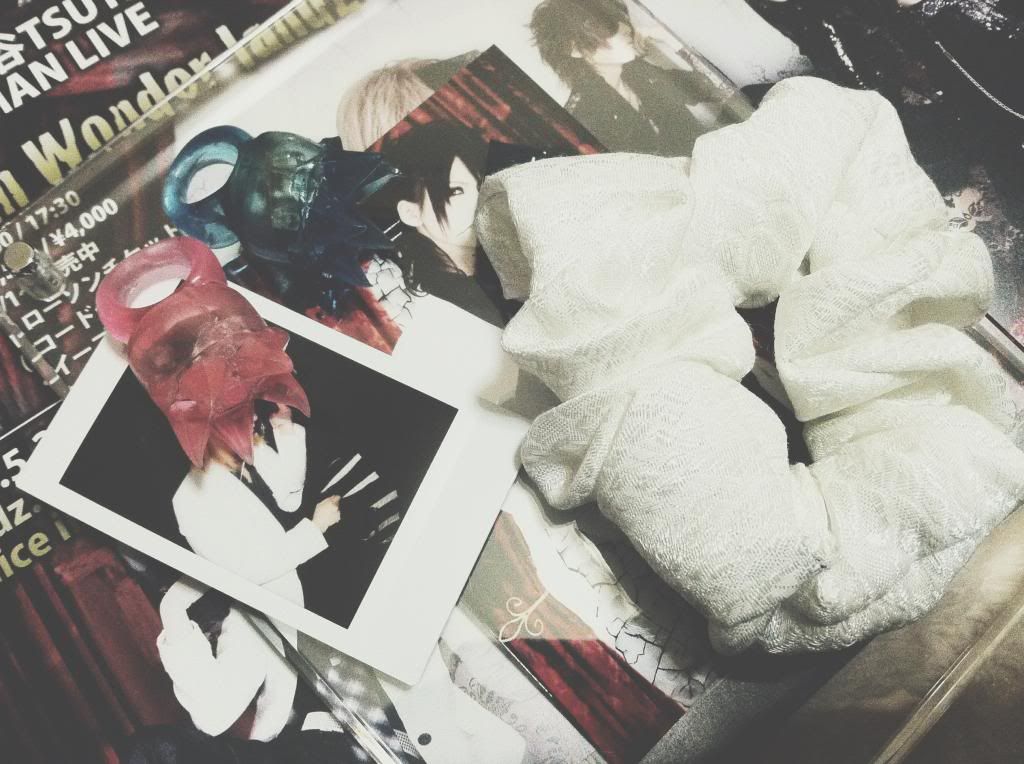 My next live is tomorrow. Though my body is still sore from Monday & Tuesday's lives, I'm excited to finally see Xepher for the first time! I might actually cry!

Labels: Arlequin, Gallo, ikebukuro, japan, landz., lives, REALies, shinjuku, tokyo, visual kei, アルルカン, ギャロ






Saturday after work

@ 1:24 AM `°•.¸¸.•°`

I only had to work on Saturday, instead of both Saturday & Sunday. One of my students who has grown kind of close to me invited me to eat ice cream with her after our lesson, so after work, we went to St. Marc Cafe in Kichijoji.

She suggested that I try the danishes there, so I ordered the original danish which is a danish with vanilla ice cream & caramel syrup.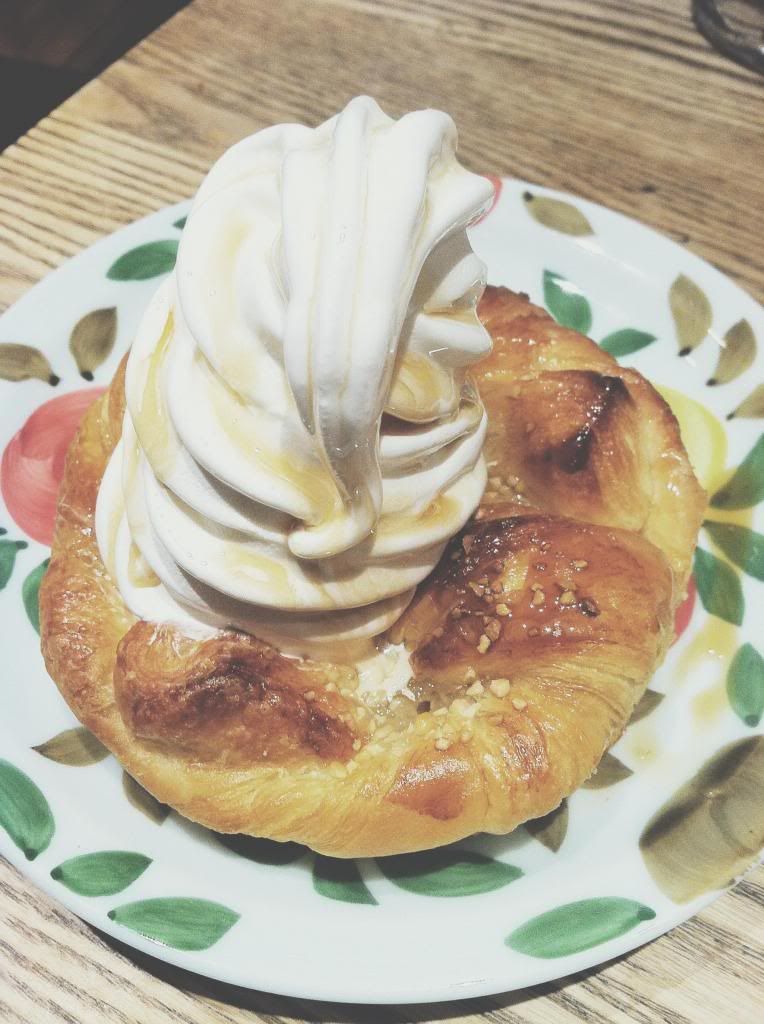 The danish was perfect, & the vanilla ice cream from St. Marc has an amazing vanilla flavor. Although the pricing for St. Marc Cafe is quite cheap, the quality of their parfaits & confections are really great! It's my favorite place(unless I want a green tea parfait, I like Nana's Green Tea).

In addition, my student had recently returned to Tokyo from spending time with her family in Hokkaido so she bought me some souvenirs. One of the things that she bought me were "nama momiji," which were really delicious ♥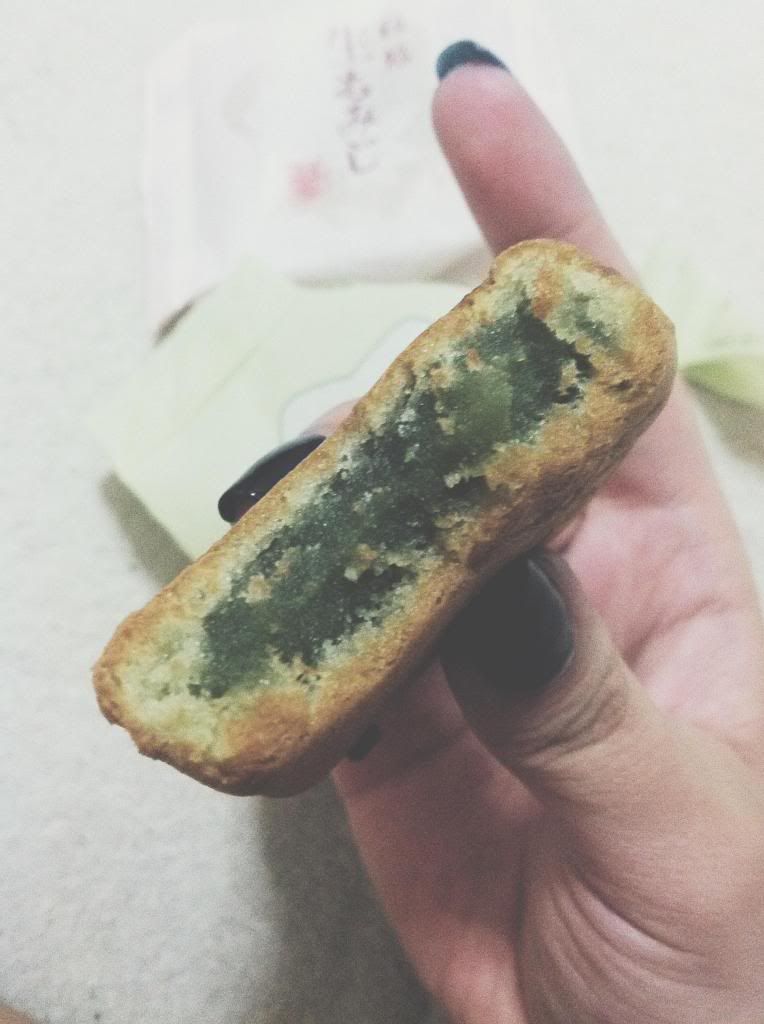 Afterward, we went around Kirarina in Kichijoji station, because it had just opened & she wanted to look around. It was fun to hear about her life; she has a really interesting way of thinking--it's so adorable.

Labels: food, japan, kichijoji, tokyo






Finally went shopping

Wednesday, April 30, 2014 @ 4:03 AM `°•.¸¸.•°`

Shopping is such great therapy for me. It lets me be alone, & I can take my time looking at stuff. I also get to enjoy eating wherever I want. After meeting Yoshi & Luy yesterday, my friends went home & I went to Shibuya to buy a dress from GLAVIL that I saw on their Instagram. I intended to only purchase the dress, & I actually thought that that was the only thing that I was going to purchase since not much else interested me. However, they were having discounts & promotions, so I decided to purchase a top that they weren't going to restock. With just those two items, again, I thought that that was all I was going to purchase, but there was one last top that I was really interested in. I said no, but then one of the store clerks that I often talk with came back from her lunch break, & she was wearing the top--& it looked way too beautiful. So I ended up purchasing three things from there.

However, after purchasing all of the items & trying them on at home, I feel absolutely no regret because I love all of the things that I purchased--more than I thought I would.

Also, the store clerk that helped me asked me if I went to a live on the 21st, because she thought that she saw someone with blue hair & looked a lot like me. It turns out, I did go to a live on the 21st! I went to see VAASTU & NOCTSCURE. She said she went to the same live for ロゼロ & NOCTSCURE! She should've came & spoke to me, because I went by myself & it was boring waiting for the next band to play, & waiting through bands that I didn't care to listen to. She said she wasn't certain if it was me though. I always love hearing that other people are into visual kei though, because it isn't really something people discuss out loud. Even when she asked me she waited up until I was about to leave, & she whispered.

Afterward, I ate lunch & went to Harajuku to purchase tights since all of the ones I owned wore-out. Harajuku was extremely busy because a lot of schools didn't have class yesterday, since it was a national holiday.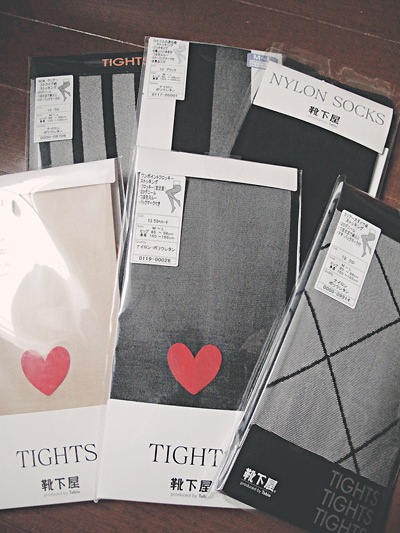 I bought sheer tights since summer here is really hot. Even now, it's unbearably hot for me. In addition, I purchased new thigh-high socks but these are thinner, so I'll be able to wear them even in warm weather.

Since I have three lives next week, I want to redye my hair. This time, I'm keeping my hair blue but adding green to the ends of my hair. I haven't dyed my hair yet, so hopefully it turns out okay!


There is only this one store that I know in Harajuku that sells Rockabilly Blue by MANIC PANIC. All other blues don't work as well for me--they wash out into a weird color, don't last as long, or don't suit my skin-tone. It's troublesome that I have to go all the way to Harajuku for this color, but it's a really beautiful blue.
The green that I'll be using is Venus Envy. I haven't dyed my hair green yet, & I wonder if the two colors will look good together. I'm excited though!

While in Harajuku, I wanted to buy stuff for Shin from landz., since I'll be seeing landz. next week. Now, I just need to buy stuff to package his gift & then it'll be complete! I'm really excited to give it to him!

Usually, I like to stay in Harajuku/Shibuya for a long time, but I was really tired from getting only three hours of sleep the night before. So I decided to head home, but stopped by Etude House at Shinjuku station to buy some masks.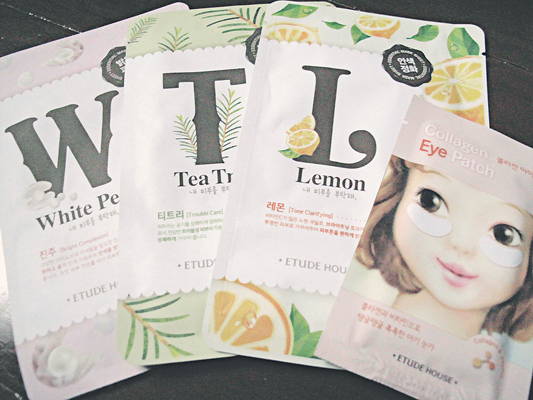 Since I've been in Japan, I've completely fallen for Etude House products. They're really cheap but work like a high-end brand. They also have quite a few shades for BB cream, which is great for me since I'm quite tan.

It was great to be out after all of the stress from school & work, & after just rolling around in my apartment. I'm really excited for next week!

Labels: 109, etude house, harajuku, japan, manic panic, rockabilly blue, shibuya, tokyo, venus envy






Yesterday was amazing!

@ 3:31 AM `°•.¸¸.•°`

I found out that a girl that I met through ViV was also a fan of Zin, so we were able to become close through talking about Zin. She's actually a very adorable, sweet, & funny person. She invited me to meet some of the Zin members, since they were promoting their one-man tour by standing outside, selling the tickets, & passing out fliers.

Since I can't afford to go to any of their lives this month due to time & money, I wanted to at least meet them & show them that I support them.
I really like Zin because they have a very "Japanese" sound, the same reason why I like D=OUT.





I met my friend at Shinjuku, & she wanted to buy stuff for the members that we were meeting. I had already purchased some confections for them. She also brought a friend who I hadn't met before, but she was a really fun companion.

We went around Shinjuku station, & they took their time shopping. Luy & Yoshi were late, so there was plenty of time to waste. Even after purchasing their gifts, there was still time so we went to Closet Child & Pure Sound. I finally picked up the Xepher fliers that I wanted!

Finally, Luy & Yoshi arrived & so we headed over there...but we kept our distance because we wanted to think about what to say to them first. All three of us were really nervous! I've spoken to band men before--lots of times, without any issues but for some reason I was so nervous. Even after about 30 minutes of just creepily staring at them from a distance, we couldn't think of much to say. Finally, one of them tweeted that they'd only be around for another 10 minutes & then they would be getting lunch so we just went over to talk to them without much of a plan.

We handed them our gifts. Yoshi was more talkative than Luy. Luy didn't say much at all, but he was really cool!! He dresses really well, his skin is very white, & he has an amazing voice. Yoshi looked a lot older. He dressed in ordinary casual clothes, & he had very deep wrinkles around his eyes--but they were really charming.
I felt a little guilty because my friend did most of the talking. When I get really nervous, I suddenly forget all of my Japanese! At certain times, I was able to say a few sentences to Yoshi though.

We talked about how I wouldn't be able to go to any of their one-man lives, but Yoshi said that they'll have some in June, so I should come. He also said I should quit my part-time job so I can make it to their lives! Then he asked me when I would be going to America again, so I told him. But then he said it's okay if I don't go back, hahahaha!

Yoshi asked me to say "I want to go to your live" in English, & when they heard it, they were amazed & tried to repeat what I said. After talking for about 30 minutes, Yoshi held out his hand for me to shake. I grabbed his hand with both of my hands, & he firmly shook my hand(his hand is huge!). Then Luy held out his hand for me to shake. His hand was small & soft, completely opposite of Yoshi's hand but suddenly he squeezed my hand really tight! I made a surprised sound, & they laughed at me.
We said thank you & good-bye then walked away, but we were still in the same area in front of the station. We all tweeted the members, saying thank you again. Then Yoshi & Luy walked by, & they waved to us--it was so sweet! They were leaving to get lunch. During lunch, Yoshi replied to our tweets!

Ahh, meeting them was like a dream. They're so talented, I felt really intimidated but I admire them so much. I will definitely be seeing them live!

Labels: japan, lives, tokyo, visual kei, zin, ジン






I've been in my apartment for days

Monday, April 28, 2014 @ 10:53 AM `°•.¸¸.•°`

I haven't really gone out to do anything--not even school because I'm so exhausted. Lately, I've been suffering from migraines & medicine in Japan isn't very effective, so I just drink water & marathon Youtube videos or anime.

On the weekend, I worked. I got paid this last weekend, so I'll be going out tomorrow to buy some summer clothes ♥ Since I got paid a lot more than usual this month, I decided to repurchase my favorite perfume--which I actually hadn't purchased before coming to Japan. However, I was well aware of its existence because of the advertisement series by Wes Anderson & Roman Coppola.




I don't usually wear perfume--I used to only use scented lotion. However, "Candy" by PRADA perfectly suits my taste in fragrance. In addition, it lasts throughout the entire day.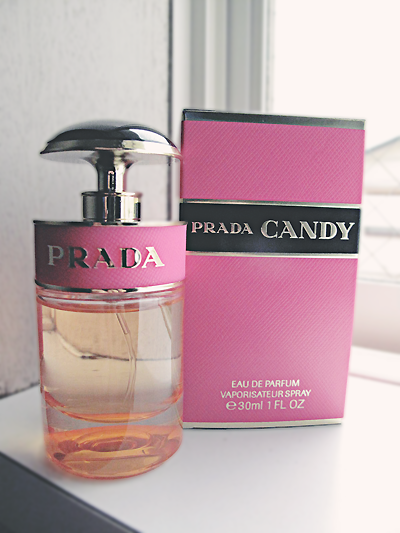 Aside from leaving my apartment to go to work, I have been hiding inside. It's easy to just stay inside when I have internet now. However, earlier this evening, I went out to take a small walk to the convenience store by the station to buy confections. I bought confections for the Zin members that I will be going to meet tomorrow--they are promoting their one-man tour, & an acquaintance has invited me to go along. Since I can't attend any of their lives, I feel that I could at least support them by going to see them & give them a small gift.
In addition, I also bought confections for myself.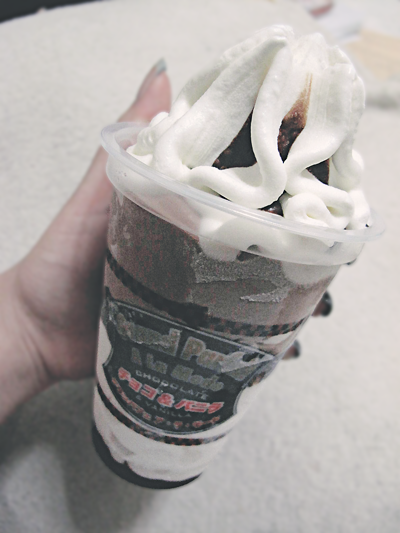 I tried this for the first time. I regret purchasing it, because I enjoyed it until I finished half of it. My refrigerator isn't strong enough to keep ice cream frozen, so I had to finish all of it but I was already satisfied...

Tomorrow, I don't have school & I'm excited to go to Shinjuku, Shibuya, & Harajuku for shopping after so long! I was actually invited to go out with the other exchange students from my school, but no way. I hate going out in large groups of people.




Live: REALies instore event @Like an Edison

Monday, March 3, 2014 @ 2:02 AM `°•.¸¸.•°`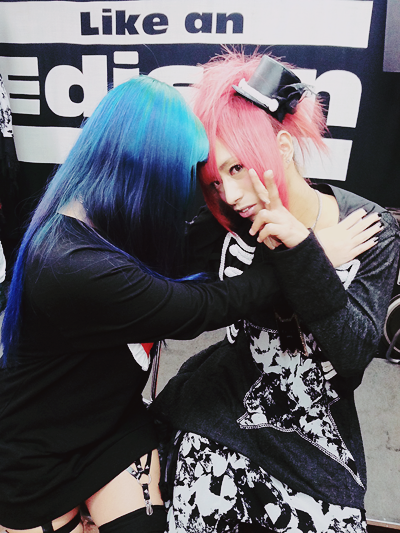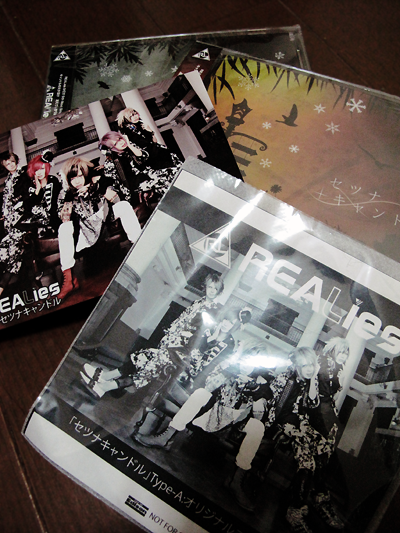 On March 1st, I didn't have work because my manager was on a business trip in London. I wanted to go to REALies' instore event a while ago, but thought that I wouldn't be able to because of work but when I found out that my manager wasn't going to open the store on that Saturday, I decided to go.

I could have gone to LEZARD's instore event, & I really wanted to go to one & take a better photo with them, but I also really wanted to see REALies' acoustic live. Plus, I don't have a photo with Nao in his current costume--both times that I took a photo with him, he was wearing something else.

The weather was kind of rainy. It was like fog, but it was a clear fog. My umbrella didn't have large drops on it, but even when I used it, I would get wet just by being outside. As a result, my hair got ruined ;n;

I arrived at Shinjuku at about 11, & went to the store early to buy type A & C of their new single. The priviledge of buying one CD is a ticket to the event; the priviledge of two CD's is a 2-shot photo. I got seat number 54.

For the rest of the time, I just walked around Shinjuku station. I would've sat at Starbucks, but all of the seats were taken. Since it was Saturday, it was really busy. At 12:30PM, I went to the store--thinking that it was like a live, where I should go 30 minutes early for them to get us seated. However, they weren't even completely ready by 1PM.

While I waited outside for the event to start, a girl came up to me & asked if I had a ticket with a low number. I showed her that I had 54, & she said that if I would like, she'll trade me her ticket--it was 11. She wanted to sit by her friend, who had a ticket above 50 too. It was really sweet of her!

I could've squeezed into the second row of seats, but the seating was being called like "Numbers 1-10, go ahead" & "Numbers 11-20, go ahead" so someone, although they had a later number than mine, took a seat that could've been mine. As a result, I got stuck in the third row behind a tall girl, so I wasn't able to look at Nao the whole time. Regardless, it was nice being close to the front.

They talked very little. They talked about their new single for maybe a minute, & then had a "Question Corner," which they tend to have. The members would ask Rayka questions, but they weren't really important questions. "What time did you wake up?" & stuff like that. After some nonsense, the members started to just say "Well, lets start the acoustic live" rather than ask a question.

They played three songs. The first one was NuAGE, then it was Shikisai Polaroid. I ended up forgetting the last song, sorry.
During NuAGE, the tall girl in front of me leaned out of the way so I was able to see Nao. He saw me & smiled at me for a while >u<
I was excited to hear Rayka's voice, & he was really great--I loved his voice. Their acoustic renditions of their songs were really amazing, & I'm glad I chose to go.

Afterward, we took our photos. I didn't bring a gift for Nao, which I should have because I don't know when I'll be able to personally hand him a gift next. But I'll definitely give him a gift at their oneman.
The guy taking the photo asked who I wanted to take my photo with, & I said Nao & followed the photographer behind the curtain. I was really nervous, & it was hard for me to think & talk. Nao said "Ohh, it's been a while. Rachael, right?" & I was surprised & said "You know?" & he replied "I know!" I had never introduced myself to him, so it was surprising that he knew. It meant that he has read my tweets to him. The pose that I wanted to do with him would hide the mess that my bangs were due to the wet weather, so I'm satisfied with my photo.
After the photo I wanted to say at least something. He looked at me & waited patiently for me to speak. I told him that I'm going to the oneman, & he thanked me & said that he has been wearing the necklace that I gave him in December. I was also surprised that he remembers that I gave him a necklace. It was really sweet of him, even though all I ever do when I get to speak to him is speak really quietly & be super nervous.

I was really happy/terrified afterwards, so I rushed to the station & stopped inside the station to look at the photo. While I was looking at the photo, a creepy old guy approached me & asked if I would like to go somewhere with him. I shook my head, & told him I don't understand Japanese. He asked where I was from, so I said America, then turned away & looked deeply at my phone. He laughed & said that that sounds like a lie. Again, he asked me if I would like to go somewhere with him. I didn't look at him anymore & kept shaking my head no. He was annoyingly persistent, & said "No? Bad? Yes? You'll go? No?" so finally I said "I'm waiting for a friend" & he left. He ruined my mood.
This is the 2nd time that this has happened to me within this month, & both times it happened, I was wearing the same outfit x_x
So I hope Nao thought I was attractive too lol.

Labels: instore, j-rock, japan, lives, REALies, tokyo, visual kei