New contacts & hair ★


There's a part of my hair that wont bleach no matter what though...so it's darker than the rest of my hair but apparently it can't be helped. It doesn't look too bad, but I would like it a lot more if all of my hair was one shade of blue rather than a variety of shades.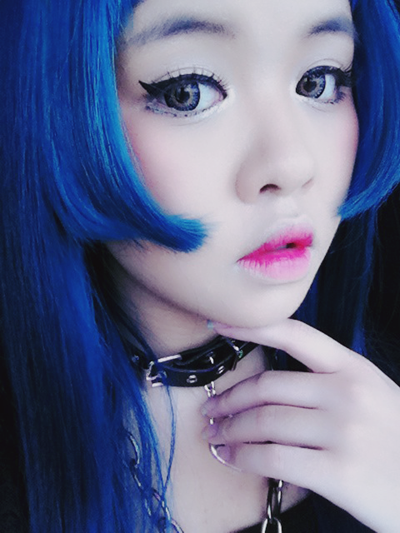 After a long time, I finally invested in circle lenses with a dark limbal ring, so they give me a really "cute" effect. I purchased the Vassen Bambi Queen Grey lenses. I usually only buy EOS lenses because of the comfort, but these are just as comfortable as my EOS lenses. They are also surprisingly opaque on my extremely naturally dark eyes.


Labels: bambi queen grey, blue hair, circle lenses, hair, japan, tokyo, vassen, viva cute candy
Live: REALies instore event @Like an Edison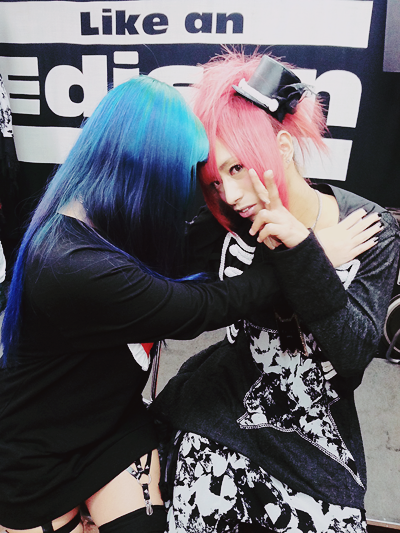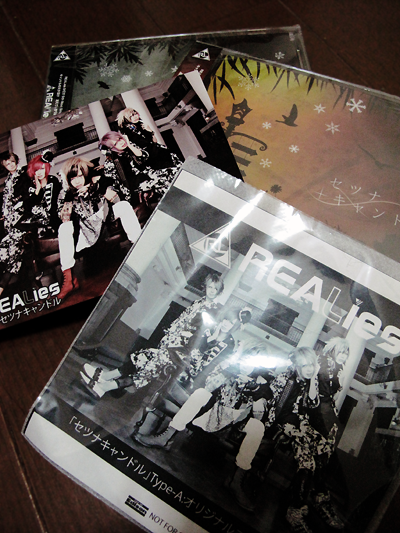 On March 1st, I didn't have work because my manager was on a business trip in London. I wanted to go to REALies' instore event a while ago, but thought that I wouldn't be able to because of work but when I found out that my manager wasn't going to open the store on that Saturday, I decided to go.

I could have gone to LEZARD's instore event, & I really wanted to go to one & take a better photo with them, but I also really wanted to see REALies' acoustic live. Plus, I don't have a photo with Nao in his current costume--both times that I took a photo with him, he was wearing something else.

The weather was kind of rainy. It was like fog, but it was a clear fog. My umbrella didn't have large drops on it, but even when I used it, I would get wet just by being outside. As a result, my hair got ruined ;n;

I arrived at Shinjuku at about 11, & went to the store early to buy type A & C of their new single. The priviledge of buying one CD is a ticket to the event; the priviledge of two CD's is a 2-shot photo. I got seat number 54.

For the rest of the time, I just walked around Shinjuku station. I would've sat at Starbucks, but all of the seats were taken. Since it was Saturday, it was really busy. At 12:30PM, I went to the store--thinking that it was like a live, where I should go 30 minutes early for them to get us seated. However, they weren't even completely ready by 1PM.

While I waited outside for the event to start, a girl came up to me & asked if I had a ticket with a low number. I showed her that I had 54, & she said that if I would like, she'll trade me her ticket--it was 11. She wanted to sit by her friend, who had a ticket above 50 too. It was really sweet of her!

I could've squeezed into the second row of seats, but the seating was being called like "Numbers 1-10, go ahead" & "Numbers 11-20, go ahead" so someone, although they had a later number than mine, took a seat that could've been mine. As a result, I got stuck in the third row behind a tall girl, so I wasn't able to look at Nao the whole time. Regardless, it was nice being close to the front.

They talked very little. They talked about their new single for maybe a minute, & then had a "Question Corner," which they tend to have. The members would ask Rayka questions, but they weren't really important questions. "What time did you wake up?" & stuff like that. After some nonsense, the members started to just say "Well, lets start the acoustic live" rather than ask a question.

They played three songs. The first one was NuAGE, then it was Shikisai Polaroid. I ended up forgetting the last song, sorry.
During NuAGE, the tall girl in front of me leaned out of the way so I was able to see Nao. He saw me & smiled at me for a while >u<
I was excited to hear Rayka's voice, & he was really great--I loved his voice. Their acoustic renditions of their songs were really amazing, & I'm glad I chose to go.

Afterward, we took our photos. I didn't bring a gift for Nao, which I should have because I don't know when I'll be able to personally hand him a gift next. But I'll definitely give him a gift at their oneman.
The guy taking the photo asked who I wanted to take my photo with, & I said Nao & followed the photographer behind the curtain. I was really nervous, & it was hard for me to think & talk. Nao said "Ohh, it's been a while. Rachael, right?" & I was surprised & said "You know?" & he replied "I know!" I had never introduced myself to him, so it was surprising that he knew. It meant that he has read my tweets to him. The pose that I wanted to do with him would hide the mess that my bangs were due to the wet weather, so I'm satisfied with my photo.
After the photo I wanted to say at least something. He looked at me & waited patiently for me to speak. I told him that I'm going to the oneman, & he thanked me & said that he has been wearing the necklace that I gave him in December. I was also surprised that he remembers that I gave him a necklace. It was really sweet of him, even though all I ever do when I get to speak to him is speak really quietly & be super nervous.

I was really happy/terrified afterwards, so I rushed to the station & stopped inside the station to look at the photo. While I was looking at the photo, a creepy old guy approached me & asked if I would like to go somewhere with him. I shook my head, & told him I don't understand Japanese. He asked where I was from, so I said America, then turned away & looked deeply at my phone. He laughed & said that that sounds like a lie. Again, he asked me if I would like to go somewhere with him. I didn't look at him anymore & kept shaking my head no. He was annoyingly persistent, & said "No? Bad? Yes? You'll go? No?" so finally I said "I'm waiting for a friend" & he left. He ruined my mood.
This is the 2nd time that this has happened to me within this month, & both times it happened, I was wearing the same outfit x_x
So I hope Nao thought I was attractive too lol.

Labels: instore, j-rock, japan, lives, REALies, tokyo, visual kei




ASOS: "All Good Things" Lace-up ankle boots



It arrived on Monday in the afternoon. A signature was required, & the delivery woman was very kind. The package was a plastic packaging bag, but the shoes weren't protected by anything--the shoes weren't even in a box. However, the shoes weren't damaged.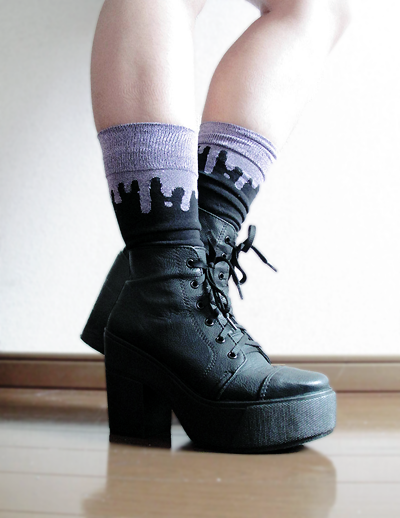 The socks are from monomania.

The sizing between UK size & US size is different. I think US size takes a lot of effort to make shoes as close to the size of an individual's foot as possible; having half-sizes & such. I re-measured my foot-size carefully & took a bit of time to decide what size to order.

The shoes fit perfectly, & are comfortable to walk in. Despite the height of the shoes, the heel doesn't put a lot of stress on the front of my feet. The shoes aren't too heavy either, & are definitely not as heavy as my TUK Creepers.

I don't have any complaints about the quality.


Overall: The only complaint that I have with ordering these shoes from ASOS is the way it was packaged. I wish it was at least placed in a shoe box, especially since it traveled overseas. However, the size, comfort, & quality of the shoes are great, & I'm satisfied with them.
Labels: asos, monomania, review, shoes
Someone, take my wallet away from me, please.
The bear character for monomania is so cute!! The bag is so adorable, I don't think I have the heart to throw it away.
I purchased a bracelet, long-sleeve top, & crew socks. The socks are a good price, I think I will go back there & purchase a pair of thigh-high socks. They have a drippy design on them--I'll post photos as I wear my purchases!

Afterward, I went to check out GHOST OF HARLEM, but couldn't find anything that I liked. I wanted to buy a choker from HELLCATPUNKS that I also saw in KERA. I have a similar one, but this one has a lock on it rather than a key.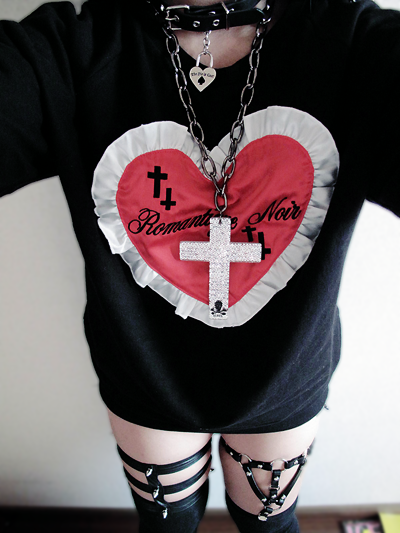 I also wanted to stop by GLAVIL, because I had been considering purchasing some accessories there, & I wanted to check if they still had a skirt that I've been wanting for a while. They didn't have the skirt that I wanted anymore, & it has been discontinued. But they did have some new things that interested me. I purchased a tank top, long-sleeve top, & cross necklace. The top is long, so it almost looks like a one-piece but I'm wearing shorts underneath.

On Saturday, I'm going back to central Tokyo so I'll try to stop by STUDIO ALTA to see if they have the skirt that I want, or something similar.

Labels: fashion, GLAVIL, HELLCATPUNKS, japan, monomania, tutuHA




VIVA CUTE CANDY



The salon is located in Shimokitazawa. To get there from Shinjuku station, take the Odakyu line & exit from the south exit. Take a left, which will take you down a street that kind of curves to the right. There will be some very colorful signs that guide to the salon. It'll be at the top of a lot of stairs in a very narrow hallway. It isn't hard to find, & is very close to the station.

I was nervous because IKU & the salon are pretty famous. I had met IKU before in Harajuku with Kaho, but I was still nervous. Surprisingly, he recognized me. He speaks very proper Japanese, & avoids mispronunciations & slang words. He doesn't speak English, but he told me that he has been able to communicate with foreign clients. It was easy to understand his pronunciations & grammar, but he used difficult words. However, he was very nice.

He tried to make sure that I was okay with bleaching my hair, & asked if I was sensitive to bleaching. It appears he tries to be careful. He was able to bleach my black hair that had grown out, as well as my hair that had been blue, to a really light blonde. The previous salon that I went to in Shibuya wasn't able to bleach my hair to anything nearly as blonde as what IKU bleached it to. The previous salon was barely able to bleach it to a light brown.
They use aromatic shampoo, which they have a large variety of. I was able to choose which scent. The woman that shampooed my hair helped me pick out one. I like sweet scents, so she suggested that I try a peach one. I really liked it, & kind of regret not purchasing it. When I had my hair shampooed the second time, I picked the same one again.

The salon uses Manic Panic. They didn't have Rockabilly Blue, which is the color that I like the most. However, they still have a lot of colors. In addition, they will mix colors to get a different desired color.

He explained to me that I'll need to have my hair bleached multiple times before I can get the blue color that I really want, so for now all we can do is bleach it once. I expected this, & having my hair bleached slowly would be safe.
Although the result wasn't the blue that I wanted, it became a greenish-blue on top, which gradiates to a dark blue. I actually like how my hair turned out.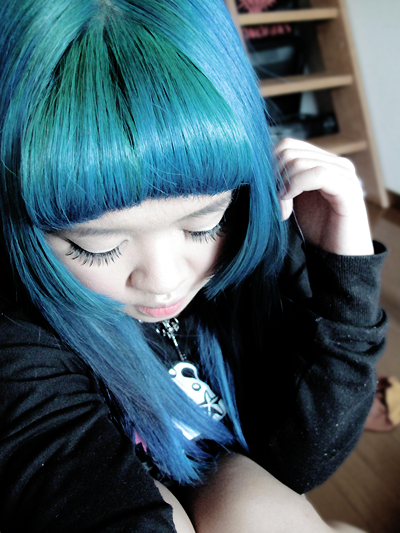 Afterward, my hair was also treated to prevent damage from bleaching.
My hair has become a lot smoother & softer, regardless of the bleach & how often I straighten my hair.

I've decided that I'll continue to go there instead of any other salon. I highly recommend this place for people that want their hair bleached or colored. It was a lot cheaper than the previous place that I went to, & IKU did a lot better job.

Labels: blue hair, hair, japan, manic panic, viva cute candy




Live: LEZARD's 5th oneman(150 people limit)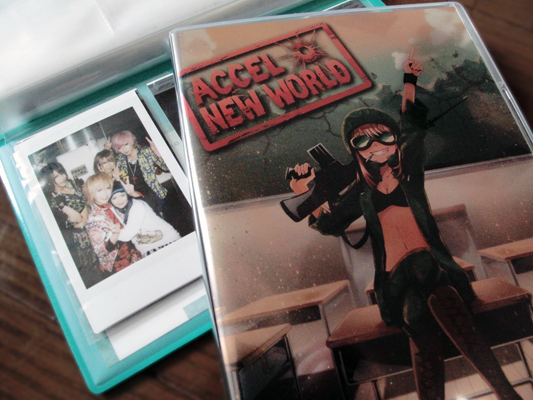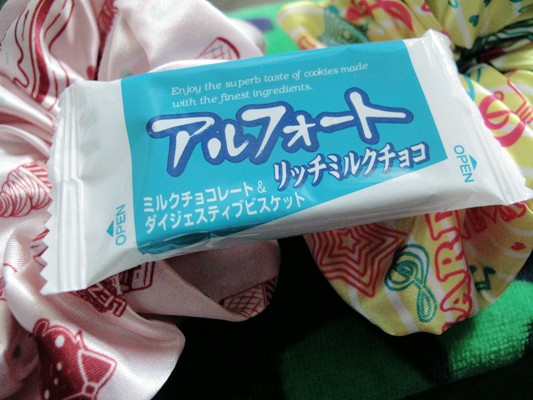 Yesterday, I was able to go to LEZARD's oneman live at 池袋 EDGE—which was limited to 150 people. People that were able to go had the priviledge of purchasing Accel New World, which came with a 5-shot cheki.

I hadn't seen LEZARD since their previous oneman in December, so I'm glad to have gone to this live, & I'm glad that it was a oneman. I was really excited to hear カミサマイカサマ live & try out the furi!
Before the live, a friend of mine that wasn't able to attend the live came just to say hello to her friends. She had given me something for Christmas in December, so I considered getting her something for Valentine's day but figured it would've been to late to give her something on the 23rd of February, & in Japan, girls aren't really supposed to give Valentines to their female friends. But she gave me a cookie & then ran off. She's been busy studying for university entrance exams, so she can't attend lives for a while. I'm considering getting her something the next time I see her though.

I had a really nice spot at the live! It was on 公佑's side. Although I was in the fourth row, I was pretty close! I couldn't really complain since I should be thankful that I was even able to get into that live.
They don't have that many songs, so they were able to play most of their songs.
One of their songs has furi where the audience does kind of an offensive gesture, but I'm quite certain that they don't realize that it's offensive.

Their MC's are always interesting. They announced another single. They finally pointed out how they all have catch-phrases, but natsume doesn't.
来夢 asked the audience who we thought was kind, & to raise our hand for that member. A lot of people raised their hand for natsume, but hardly anyone raised their hand for 来夢 lol.

Afterward, each member was able to talk for a bit. 公佑 & 来夢 always talk, so it's nice to hear natsume talk. Poor natsume; while he was trying to throw stuff to the audience, he hit his elbow & cut himself >n<

I really enjoyed the live, not just from their performance but because I was surrounded by five of my friends. It was more exciting to be able to enjoy the live with them. We would help each other jump higher for our favorite members, hold hands, & sing to each other >u< They are so cute!

The cheki was taken after the live. I was nervous! But it seems that the staff is very lenient when it comes to talking to the band when it's time to take photos, opposed to REALies. I greeted them by saying "Hello," & they kind of seemed impressed, saying "Oh! Hello!" I intended to make them speak English with me, because 来夢 says that he knows English but he doesn't speak it ever, other than "yoroshiku one, two," & "that's funny!" I spoke slowly, "English only, please." They seemed amused, & 公佑 said "Okay!" When he told me to sit down, he said "Come on!" it was so cute/funny >u< I asked him "Can we hug?" & held out my arms, & he took a moment to react, but said "Okay!" & hugged me close, pressing my head against his face. Everything in my body was numb, I didn't think about making the photo look nice at all lol! I liked my previous photo with them more.

Afterward, 公佑 said "Thank you." I said "Thank you. It was very fun!" Kousuke asked me to repeat myself, but LIME quickly translated. I repeated myself in Japanese, & 公佑 was surprised at my Japanese.
On the way out, he thanked me again & handed me the photo—which I had almost forgotten about. I told him in Japanese that I ended up forgetting, & he pointed out that I was speaking Japanese lol.

It seems 来夢 was able to understand my English, but I didn't hear him speak it. I'll try again next time!

Labels: j-rock, japan, lezard, lives, visual kei




Live: コドモドラゴン



On January 26th, I went to Royz' oneman live at TSUTAYA O-EAST. However, I went there to see their opening act: コドモドラゴン.

I had heard of コドモドラゴン through Kaho, the assistant manager of LISTEN FLAVOR. We became friends through my frequent visits to LF. Her favorite bands are DIV, SuG, & コドモドラゴン. When Kaho talks to me outside of work, she's really silly--& I wouldn't say that she is childish, but she likes a lot of things that make her seem like a little angel. But when she is talking to a customer, she becomes extremely serious. I would tease her & say that I want to go to a live with her one day, so that I can see that side of her.

That's what lead me to go to see コドモドラゴン. The band doesn't seem to have anything planned in Tokyo until late April, so I figured that it would be best to go to this live, not just to see the band but to seize the chance to enjoy the band with Kaho.

I went to Shibuya about a hour & a half early, so I went to eat sushi at the usual restaurant that I go to for sushi--Uobei(魚べい). I ate a little bit, then I went to 109, intending to only purchase a necklace from GLAVIL. However, I came out with a parka instead. 109 was still having their New Year's sale, so I thought it was wise to purchase the parka then.

Finally, we met in front of Hachiko statue, & she suggested that we take purikura. I don't understand why I always end up looking stupid in the purikura that I take with Kaho, but I usually look fine in purikura that I take with others.


After purikura, we went to eat because she was hungry. As I mentioned, I had ate by myself before meeting up with her, because I didn't think she would be hungry. I was fine eating with her though, because I get really hungry during lives & we still had a few hours before the live started.

We went to Saizeriya, which is an "Italian" restaurant. I just ordered a salad. We hadn't seen each other for a few weeks, so it was nice to be able to sit down & talk outside of work.

After eating, she wanted to walk around 109. We had discussed before entering that we wont buy anything, because we had both gone shopping before meeting up. However, when we got to GLAD NEWS, Kaho got enticed by their sales & ended up buying a bracelet & shoes. GLAD NEWS is one of her favorite brands. She confessed to me that she felt bad but happy at the same time--a feeling that I completely understand.

By this time, it was a few minutes before the doors opened so we headed to O-EAST. We both didn't have very good tickets, but it wasn't too bad. It was at least better than the ticket I had last time at O-EAST. We were off to the side, away from most of the audience, & in a slightly elevated area so we were able to see the stage well.

We hoping that they would wear their new costumes, but it was unlikely since their new look went with their oneman tour--& this was just an opening act. So unfortunately, they were in their old costumes but they still looked amazing. They played very few songs, & it felt like their set was really short. But they played RIGHT EVIL, which I appreciated. When Kaho told me about コドモドラゴン, she mentioned that they have songs with rolling headbangs, which is interesting because I hadn't seen a band that has rolling headbangs. It was fun to experience that, & she would grab my hand during the headbangs--which was super cute!

Performances at O-EAST or O-WEST have been my favorite because the sound in those live houses is really clear, & the live house isn't too big where I can't make out the bands' facial expressions.

After their short set, we watched Royz together up until their encore. We both aren't fans of Royz, but there are some songs that we like. There was one girl in front of us that was really into their performance--so much so that she took up three rows-worth of people. If Kaho & I hadn't moved back away from her, she probably would have accidentally punched us. It was sweet of her to be that excited, but she should be more aware of her surroundings.

Before the encore started, Kaho went to stand in the goods line to buy tickets for コドモドラゴン's oneman tour, since they were selling A tickets at that live. Since she was stuck in line, she wasn't able to watch the encore with me.

After the live, we went to eat at a restaurant on the way to the station. We both had chicken tonkatsu with rice & miso. Then we rode the train together to Shinjuku, where we separated & went home.

I felt that the live itself wasn't worth how much it costed, because I'm really not a fan of Royz & コドモドラゴン's set was as short as if they performed at an event live. However, I don't regret enjoying it with Kaho & spending the day with her. I hope that I can go to a live with her again, but she tends to go to quite expensive lives, so she can't afford to go to lives that I want to go to--& I go to so many small lives, that I can't afford to go to the lives that she goes to.

Labels: codomo dragon, japan, lives, royz, コドモドラゴン



This is a personal blog where I post about my interests & daily life. My blog is absolutely not a fashion or make up blog, they are just a part of my interests—meaning that my posts aren't restricted to just that. I am not an expert & I am not sponsored to do reviews.

Any personal photographs are taken by me on a Canon G10 or iPhone 4. Any gifs or images were created/edited by me as well, where I don't permit using elsewhere.

subscribe bloglovin' twitter tumblr 8tracks



about me

Age: twenty
Residence: Tokyo, Japan
Ethnicity: Vietnamese, Japanese, Chinese
Languages: Japanese, Vietnamese, English
Hobbies: playing video games, eating, sleeping, reading, blogging, & listening to music



( read more... )
archive